Your bathroom is an extension of your personality. It is the ideal way to express yourself and reveal your own unique style. Choosing the perfect fixtures and fittings for your bathroom is therefore paramount. You need to select the ideal shower and tub enclosures, and the best hardware to match your taste. A Cut Above Glass offers designs that showcase the timeless beauty of glass. Simplicity blends with elegance, resulting in a shower enclosure that is not only stylish, but simple to maintain. Whatever your choice of home decor, you can be sure that all of our shower door hardware can be matched with virtually all of our glass types for the best possible combination. We are committed to ensuring that our customers are delighted with the look and feel of their shower enclosure, and we always strive to supply the highest quality products that our customers will enjoy every time they enter their bathroom. We believe that beauty should last a liftetime, and so we are dedicated to offering you all the information that you could possibly need to assist you in choosing the perfect shower installation for your home.
Frameless Shower Doors
A frameless shower door enclosure is made up of 3/8″ to ½" thick tempered and polished safety glass which is strong and sturdy enough to use minimal metal only to secure panels in place instead of strengthening them.
Framed Shower Doors
A framed shower door is constructed of thinner less expensive glass 1/8″ to 3/16″ thick and utilizes metal to strengthen the enclosure.
Shower Renovation
With the ever changing real estate market in Arizona, people are starting to spend money upgrading bathrooms and kitchens. We receive more bathroom remodel projects than ever before. A simple and inexpensive way to update your bathroom, is to replace the shower. Simply changing the hardware and glass will update your bathroom and give it a lavish look.
Shower Repair
Here are a majority of the calls we receive regarding shower door repairs and similar. We will cover the most common questions and fixes.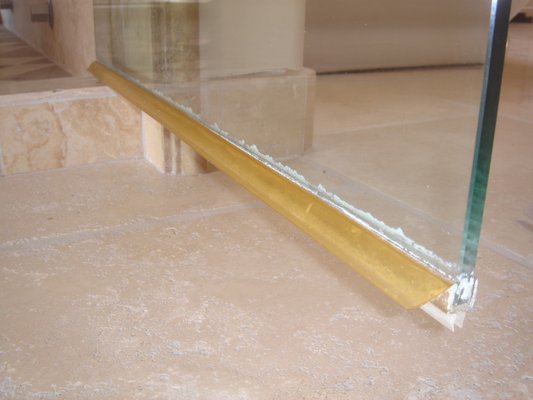 Leaking Shower Doors
When responding to the typical call we receive regarding leaking shower doors, the first question we ask is: What kind of shower do you own? Framed or frameless? Typically a framed shower that is leaking has seals that have broken down or fallen off and or the silicone sealing the framework to the stone has failed. In either case it is relatively easy to repair. If the shower enclosure is a frameless unit, things can be a little more difficult. We see time after time, frameless shower door have been installed on top of a threshold that is either not level or even sloping outwards towards the bathroom floor. In this case usually a polyurethane sweep has been used to try and stop the water from leaking onto the floor. We recommend replacing the sweep with an aftermarket threshold. These thresholds are available in colors to match most any hardware finish available. If the silicone has failed once again the leak is easy to repair.
(480)473-8131
Call Today for your Free Estimate